wedding abroad
Getting married at the destination of your dreams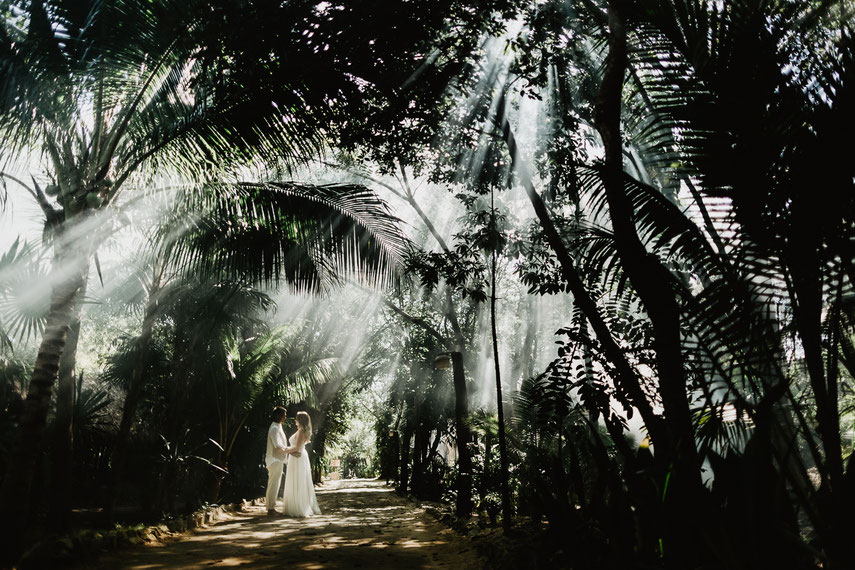 You have the desire to travel? You love to explore new cultures, landscapes and places?
Then you´re the perfect couple for a destination wedding or getting married abroad.
Why? I´ll show you 10 reasons... but I´m pretty sure there are much more...
- The world is your playground -
1. The world is endless...
You can decide which place, which country or which city fits most to your soul... Do you prefer rough, northern coastlines? Like a wedding in Iceland, Ireland, or Scottland? Do you prefer mountains like in Austria? Or is it more the ocean that attracts your heart, like in the Caribbean? You alone can decide what fits best to both of you and your unique love story...
Do you love Thai food, or the spirits of Bali? Endless horizons in Afrika, the Sahara desert in Morocco or the jungle at Saint Lucia? Your decision... Let your heart lead the way... 
2. You can combine wedding - and honeymoon
You don´t like to spent month on planning your wedding? Then just let your destination organize everything for you. Most of the resorts offer an "all-inclusive" wedding package. Including the paperwork to get your wedding accepted officially. You just have to pack your suitcases and enjoy the time at your chosen destination...
3. You can choose your loved ones more carefully 
You don´t like huge weddings with all the aunts and uncles, you never spent time with? Then just choose the people you love and surround yourself with your "chosen" family. They will be happy when you´re happy... And spent your most important day with the people that you really love...
4. You spent quality time with your loved ones 
The great thing with destination weddings is, you not only get married on an extraordinary place. You also can spent a relaxing holiday with your close family and friends. You have a relaxing atmosphere and have all your loved ones surrounding you. Can you remember when that happened last time? On most wedding days you don´t have enough time to spent with every guest, but if you share a holiday... There´s plenty of time left...
5. Weather 
Mostly you can´t plan the weather... Thats everywhere the same, all around the world... But if you live in a place like I do (heart of Germany) the weather is really most unexpectable .. You never know. And if you can choose your wedding destination, you more likely can plan the weather. If you lets say want to get married in January, german weather will be rubbish. But if you choose Africa, Australia, Southeastasia or the Caribbean... you know it´ll be much warmer and much more likely sunshine...  And even if it´s rainy season (I´ve spent a couple of weeks on Bali during rainy season) it mostly means it rains the hell out of the clouds for 5 minutes, then it clears up and the sun comes out... This is even perfect for pictures, cause it creates the most dramatic skies... You can also think about the other side of the world, for example when it´s winter in Germany, that means it´s summer in New Zealand. You could have a christmas or new years wedding on the beach there... 
6. Flexibility
No matter if its Friday, Saturday, or even during the week. Your guests will be there anyway... Cause you took them on holiday...
7. Currency exchange
Your wedding in the USA, UK or Germany would cost a fortune? You can choose one of the beautiful countries with a lower currency level.  Like Thailand, Loa, Bali or Singapore... Southamerica or Southafrica... 
8. Live your dream...
You can get married on that place of the world where you always wanted to go to... Why not? Imagine you always wanted to feel the Caribbean sand under your feet... why not getting married on that dream location?
9. Outstanding wedding pictures 
Breathtaking views on the top of a mountain? A relaxing walk on the beach? You kiss your love at a glacier lagoon? You walk through vineyards? Have a look together onto the endless ocean? I promise you... If I take your fine art, artistic wedding pictures at these locations... They´ll truly be unique... Just like you are...
10. Choose the wedding of your lifetime!
I know it sounds odd... But you only live once! Your life and your love is something really special. Choose your day to match it to your love...
You are unique, like your wedding should be...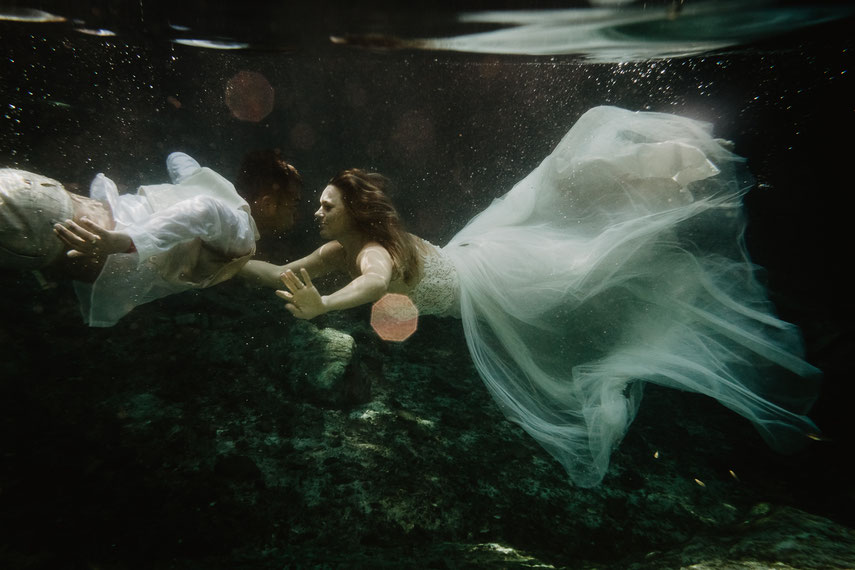 Something special for example I´ve done in the past were some underwater wedding pictures at a Ceynote in Mexico. You can have a closer look at these pictures here: Destination wedding Mexico